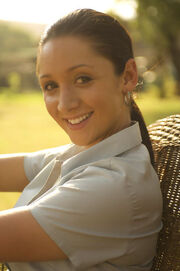 Rosie Gifthold (neé Trevanion) is the daughter of Danny Trevanion and the wife of Max Gifthold. She arrived at Leopard's Den as a disgruntled teenager, but quickly fell in love with Africa and became a competent ranger at Leopard's Den and Mara. After working alongside her father in her adolescence, Rosie is following in Danny's footsteps, currently training as a vet in Cape Town. In the latest (seventh) series she has returned to help around Leopard's Den after Caroline rang her about the family's problems and loosing Leopard's Den to Mr. Peeters.
When the family first moved to Africa Rosie was not close to Sarah at all however this changes soon after they settle in. Rosie is a strong character like her father and in the second series started to show potential as a vet with her knowledge of the medicines and vetenary instruments. Her mother Miranda died when she was very young so they called their new baby lion Miranda after her mother.
Rosie is portrayed on screen by Lucy-Jo Hudson.
More will be added soon