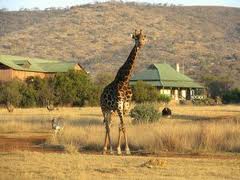 Leopards Den is the game reserve that the television series Wild at Heart is set in. As a location it appears in every episode of the series to date
In the first series Leopards den was a shabby little place in the middle of nowhere. When the Trevanion family was invited to come live at the old dump of a place by Anders Du Plessis turned the place around and made into into a game reserve. Throughout the series Leopards Den is a place of hardship, as well as love. The younger kids in the family enjoy Leopards Den particularily Evan who goes out into the bush with DuP and learns about the flora and fauna in the region. At the end of Series 1 it is revealed that one of the waterholes in Leopards Den harbours the deadly disease Anthrax.
In the second series of Wild at Heart, as well as being a game reserve, Leopards Den sets up a proper Veterinary Clinic in the old vet hut. As well as that the reserve see's its first large quantity of tourists coming to visit. New faces also come to live at Leopards Den, including Thandi and Caroline.