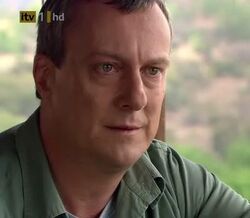 Dr. Daniel (Danny) Trevanion (played by Stephen Tompkinson) is the main character of the series Wild at Heart. Danny had the idea to move his family to Leopard's Den in South Africa. He is a qualified Vet and has a passion for animals. He has had a rocky friendship with business partner, Anders Du Plessis, but eventually regarded him as his best friend. Danny has been married three times. His first wife, Miranda Trevanion is the mother of his daughter, Rosie Trevanion-Gifthold, Danny and Miranda had a rocky marriage that briefly led to seperation - they reconciled before her death due to Cancer. Sarah Trevanion was his second wife, whom he met after the death of his first. Sarah is the mother of two children from her previous marriage, Olivia Adams and Evan Adams. Sarah and Danny moved their family to Leopard's Den in South Africa, where they lived happily until Sarah's untimely death in a bush fire. His third and current wife is Alice Collins-Trevanion, a fellow vet whom he met during a rabies outbreak. Alice has one daughter from a previous relationship, Charlotte Collins. Alice and Danny also have a son together, Robert Trevanion. 
Hailing from Bristol, Danny's life has been one big adventure since moving to Leopard's Den. Working with wildlife has been a dream come true for him - but he soon learned that taking care of ferocious lions and tigers on a daily basis was something quite different to treating domesticated cats and dogs. Moving to South Africa also gave Danny the opportunity to start a new life with wife Sarah, following the death of his beloved first wife. He couldn't believe he managed to find true love again - but daughter Rosie was still grieving for her mum, and her obvious dislike of Sarah threatened Danny's long-term happiness. Two years after moving to Africa, Danny and his family are striving ahead with expansion plans for Leopard's Den.
Relationships
Edit
Anders Du Plessis
Edit
Anders is Danny's best friend and business partner, Du Plessis (Dup) is the owner of Leopard's Den, which had been his family home. After the Trevanions came to South Africa for a holiday, Dup saw the good that Danny brought and his passion for animals and propositioned him to go in to business together. Since then, Danny and Dup have been through a lot but their friendship never waivered. Danny respects Dup's passion, knowledge of the bush and loyalty to his friends, Dup believes Danny and his family were the best thing to happen to Leopard's Den and truly cares for him.
Sarah Trevanion
Edit
Sarah was Danny's second wife. Danny and Sarah loved each other very much, and together made the decision to move their family to South Africa. When Sarah died it tore Danny apart, to the point where he briefly considered moving back to England with his step-children.
Alice Collins-Trevanion
Edit
Evan and Olivia Adams
Edit
Cedric Fatani
Edit